Established for over 10 years, Direct Cleaning Group provides professional domestic and commercial cleaning services throughout the Wirral. For a free no obligation quote on any of our Wirral cleaning services, please contact us.
WHY DO I NEED A WINDOW CLEANING SERVICE?
Maintaining your Wirral property, whether domestic or commercial, is essential to prevent any damage. Dirty windows are not only unsightly but are surprisingly unhealthy if not maintained properly. To remove bacteria, dust and prevent mould, having your windows cleaned on a regular basis can prevent an unexpected health risk.
Nobody wants the extra expense of having to replace windows that were not maintained, and therefore with our professional window cleaning services, you can prevent damage that is detrimental to their quality and lifespan.
Keep your costs low by allowing sufficient light into your property through clean windows. Professional window cleaning will not only keep your property looking fresh and clean on the outside but on the inside too by brightening up the environment.
By ensuring your windows are regularly cleaned by specialists who are professional and reliable you can rest assured that both the standards of the clean and safety are never compromised.
Call us today on 03300 02 02 88 for a free no obligation quote on our Wirral window cleaning services.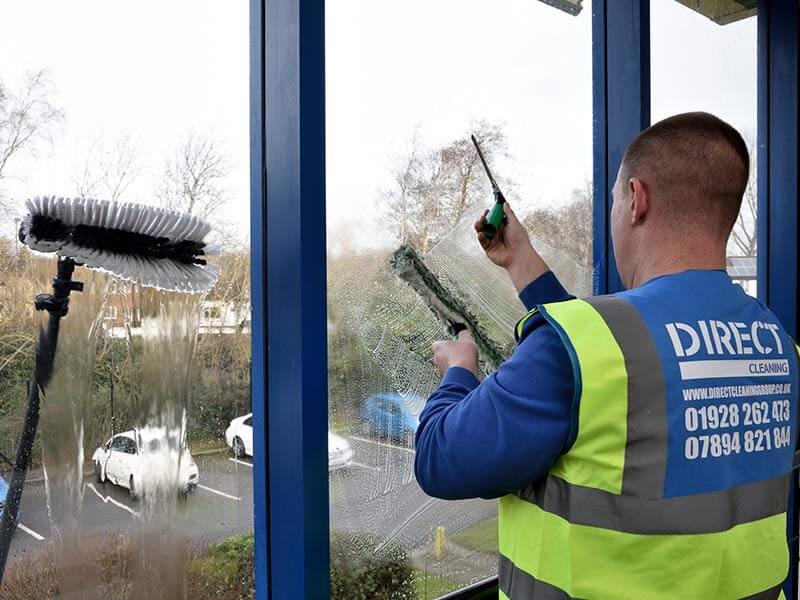 RESIDENTIAL & COMMERCIAL CLEANING METHODS
We will always assess the property to ensure the most appropriate cleaning method is applied to your Wirral property. Regardless of the cleaning method our professional window cleaners use, we will always carry out the job to the highest standard.
Cradles, mobile platforms and water fed poles are all used to ensure windows of all heights can be successfully cleaned particularly when it comes to commercial cleans. With domestic cleaning, our teams opt for a specialised 'ladder less' approach to window cleaning. This 'Reach and Wash' method uses water-fed pole systems to reach impressive heights by pumping 100% pure water through telescopic poles. These poles allow us to reach windows up to 65 feet from the ground without any ladders or platforms. This cleaning technique not only ensures the safety of the team as well as your property but means there is no compromise on the excellent standard of work.
WHAT DO YOU CHARGE?
At Direct Cleaning Group, we quote every job on an individual basis as we have to take a number of factors into account including size of the property, location and any other special requirements. We will always be happy to discuss cleaning requirements and provide a free, no obligation quote before undertaking a job.
WHAT SERVICES DO WE OFFER IN THE WIRRAL?
WHY CHOOSE DIRECT CLEANING GROUP?
We are committed to providing every customer with the highest quality service and therefore ensure all of our staff have the highest quality training. Each member of our team is fully uniformed and accredited within their appropriate fields as well as having full public liability insurance to protect themselves, customers and members of the public in the unlikely event of an accident.
Direct Cleaning Group has been a market leader in providing specialist window cleaning services to homes and businesses in the Wirral for over 10 years. We are proud that in the North West of England we boast a client list of over 1000 regular customers, sustained through reliability, efficiency and professionalism.
If you are looking for a professional window cleaning service for your property in the Wirral and want a free, no obligation quote, don't hesitate to contact us today on 0330 002 0288 or email us at info@directcleaninggroup.co.uk for more information!