A shopfront should always look the part if you want people to enter your store.
It is a space used by retailers, no matter what they sell, to show off what they offer and an opportunity to create an impression that best reflects their business.
For that reason, it should be a priority to keep all windows clean.
Straightaway it tells those looking through them that you care about appearance.
Why is it important?
Dirty windows are not a good look for several reasons.
It's less likely to tempt new customers to step inside your store, and risks sending to them the wrong message about your business.
You want them, and those that work for you of course, to think that appearances matter to your brand.
If the opposite impression is created, then it could damage your reputation.
Workers that walk into a clean environment are likely to be more motivated and take greater pride in their output.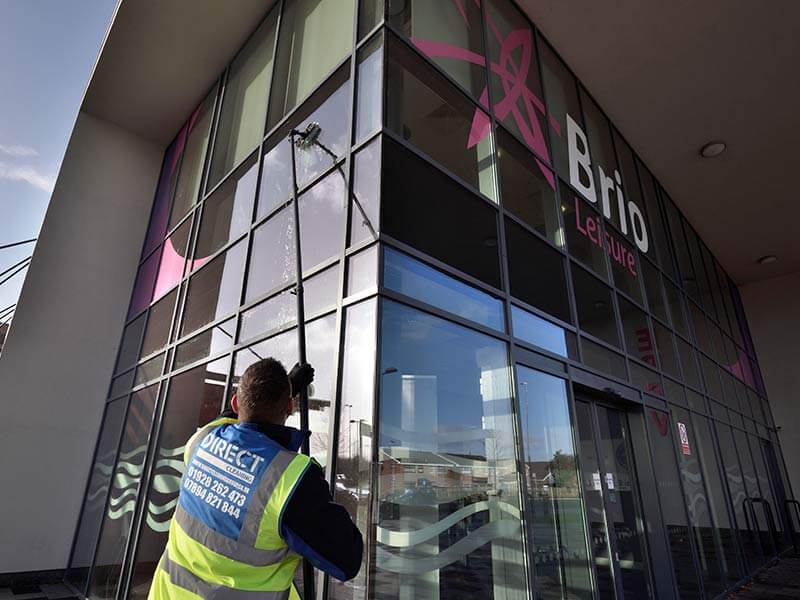 Who can benefit?
Any business on the high street, or at an out-of-town retail park, that has merchandise it wants a passerby to see and stop to look at. That could include ground-level shops, charity shops, dry cleaners, opticians, pharmacies, showrooms, supermarkets and travel agents. It is important too for food or catering establishments like cafes, coffee shops, fast food outlets, restaurants and sandwich bars. Not only is it good practice, and hygienic with it, but it shows off products on display.
What we do
Direct Cleaning Group uses the latest technology to clean retail windows, guaranteeing with it to keep your shopfront inviting. You can count on our staff, who take pride in doing a professional and thorough job.
Using a water-fed pole system, which negates the need for a ladder, our cleaners can reach impressive heights while their feet stay on the ground and without compromising standards.
Those same poles can also treat UPVC, glass roofing, paneling and cladding – and everything stays cleaner for longer. The water goes through a heated filter and is both purified and deionised with no static charge.
How often should I have my windows cleaned?
It depends on your needs. We're flexible, and collaborate with you to come up with a cleaning schedule that avoids disruption to your routine while achieving the results you want. That can be daily, once a week or monthly if you prefer. Talk to us about what you're looking for and we'll adapt our service to you. We promise to discuss your requirements in detail before carrying out any work. Call 0330 002 0288 or send an email to info@directlcleaninggroup.co.uk and a member of our team will arrange a free, no-obligation quote.