What Are The Five Most Common Window Cleaning Hazards?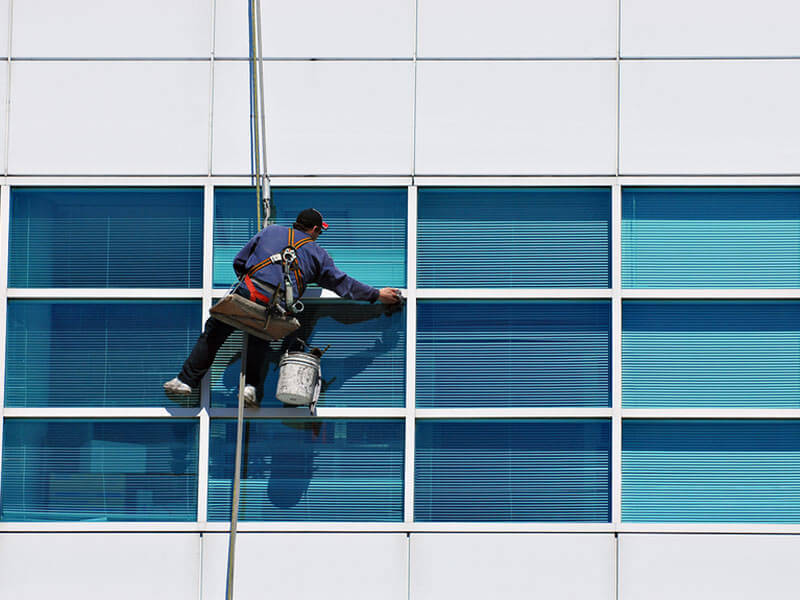 Window cleaning can be a hazardous job particularly when you are working from extreme heights. There is a very real and present danger for those cleaning windows with falls from height being one of the biggest causes of workplace deaths in the UK. Many more will suffer moderate to serious injuries as a result of falls with there being a common misconception that you have to fall from a great height to be injured.
There are many hazards when cleaning windows but proper health and safety assessments, as well as the correct equipment, can help avoid them. Here we will be discussing the five most common window cleaning hazards.
Ladders
One of the most common methods for cleaning windows is by using ladders but as far back as 1974 the law regarding the use of ladders stated that employers must make sure employees and those in the vicinity should not be in danger. Today they are still widely used but the risks remain meaning that the correct footwear must be worn, the ladder must be the correct height for the job and working loads cannot be exceeded. Not adhering to these rules can results in slips, trips, falls and straining from overreaching.
Rope Access
When there are windows that are difficult to reach, rope access will often be used. Rope access gives window cleaners more flexibility, allowing them to complete the job in less time and access areas that couldn't be reached using a ladder. Naturally, however, there are risks associated with rope access such as falls, failing to use PPE and moving too quickly, causing injuries.
Cradles
Cradle cleaning is most commonly used for high rise buildings but can be one of the most dangerous pieces of equipment if not used correctly. This piece of equipment can be extremely hazardous if the user has not engaged in proper training to know how to safely operate the cradle. They must also understand the risks of overloading as well as operating in inclement weather conditions. Injuries can easily occur when using equipment such as this when jobs are rushed, or the individual fails to use personal protective equipment.
Travelling Ladders
Travelling ladders and Gantries can be extremely useful for window cleaners who require access either outside or inside of a large glazed atrium. However, this another piece of equipment that can be extremely dangerous if not properly installed and maintained. Window cleaners must wear harnesses and have all tools secured to them to prevent them or the tools from falling. When using this equipment in particular, there is a very real risk of injury from broken glass and falls.
Bosun's Chair
A Bosuns chair, also referred to as a boatswain's chair is a piece of equipment that is used to suspend a window cleaner from a rope and is equipped with a seat board. Again, this piece of equipment can be great when working on high risk, hard to reach windows but without PPE, it can be hazardous. Individuals are prone to falling, dropping equipment and injuring themselves if rushing which is why the equipment must be thoroughly checked and maintained to help avoid these risks.
At Direct Cleaning Group, we are the leading experts in our field offering state-of-the-art window cleaning services. Our window cleaning specialists are all fully insured, accredited and will carry out a risk assessment prior to each job to assess all risks and work to minimise them. To find out more about our window cleaning services or to request a quote for cleaning your windows, contact Direct Cleaning Group today.