Window Cleaning for High-Rise Buildings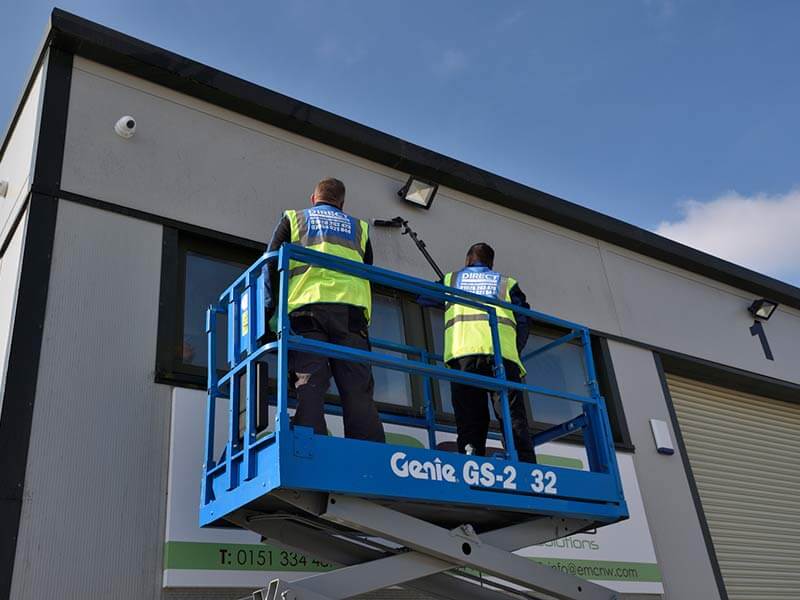 As with most aspects of maintenance of a high-rise building, finding the right people to clean the windows can be a difficult task. Many health and safety measures and a range of specialist equipment are needed to provide a safe and thorough job. By hiring the Direct Cleaning Group, you know the windows of your high-rise building will be well looked after. Here's why you should choose the Direct Cleaning Group to clean the windows of your high-rise property.
How Do We Clean High-Rise Windows?
We can carry out window cleaning at heights through a range of access options, meaning there are no windows we can't clean. We can supply specialist workers to access your windows via hydraulic platforms (i.e. cherry pickers), rope access and cradles.
Hydraulic platforms are used when ladders would not be safe or practical to use. Cherry pickers allow our cleaners and their equipment to safely reach heights of 15m or higher. Of course, there must be ample exterior access for the truck or platform base to be positioned correctly for use.
Rope access is a commonly used technique for cleaning high-rise windows. Specialist professionals carry their equipment about their person and access the windows by abseiling down from the roof.
Cradles are often bespoke designed to operate alongside the high-rise building. It is the building manager/owner's obligation to ensure the cradle is tested and maintained to safety standards. Specialist crew man the cradle, as they are moved into position either manually or electronically. Cradles allow the use of a wider range of equipment at heights, when compared to the minimal equipment being carried through rope access.
What Makes Our Window Cleaners Special?
All our staff and sub-contractors are specialists in their field. We take all the necessary precautions before completing a job, so you know your window cleaning is in safe hands. Here at Direct Cleaning Group, we:
Assess each job before estimating cost to get a thorough understanding of which cleaning method is going to be most suitable based on the size of building, access points and specialist equipment already in place, to ensure we get the job done right, first time, and every time.
Ensure our internal employees and sub-contractors have all the specific training and licenses, as well as specialist equipment needed for each job
Send teams of at least two technicians to rope access jobs to provide maximum safety support, so you don't need to worry.
Train all of our workers to have an excellent level of customer service skills, so you and your staff can rest assured that you will be dealing with a professional team of cleaners at all times.
Use Direct Cleaning Group for Your High-Rise Window Cleaning
We are proud to service over 1,000 regular domestic and commercial clients across the North West region. If you are looking for a professional, flexible and modern company to provide a premium standard of window cleaning for your high-rise building, contact Direct Cleaning Group today to discuss your window cleaning requirements.