The appearance of your office has an impact on the morale and the productivity of your staff. Our office cleaning services ensure your working environment makes a positive impression on visitors and staff every time.
Non-Disruptive Office Cleaning Services
Nothing is more frustrating than the noise of a vacuum cleaner in the background of an important meeting. By getting to know you and your office, our office cleaners will be able to work in the least disruptive way possible, achieving a high standard of cleanliness without interrupting your day to day operations. We even offer an early morning office cleaning service to guarantee that our cleaners won't disturb your staff.
Your staff are best equipped to do their jobs well when their environment is clean and tidy. Our cleaners can call in outside of normal working hours to get your office looking spotless before your staff arrive. This service ensures your staff won't be disturbed or distracted by cleaning operations, and a smart, clean office appearance will be maintained.
If an important meeting is arranged at the last minute, you need your premises looking spotless. Our Deep Clean is a one-off deep cleaning service designed to restore a pristine appearance and leave your office completely free of dirt. We also recommend arranging a deep clean before starting an ongoing cleaning contract to set a high standard of cleanliness for us to maintain.
We understand, every office and working environment is different, therefore, we can tailor a cleaning package to suit you and your exact requirements.
What is Communal Cleaning?
Communal areas can consist of various shared spaces such as shared accommodation, flats and office spaces. It is areas such as these that need more thorough cleaning and attention due to their regular use or being a high traffic area. Whether it is a workspace or communally used area, nobody wants to see or use dirty facilities but equally, those who have not made that mess won't want to clean it up. Many offices will use cleaning rotas as a means of managing these areas, but it can become difficult and cause tension if others feel that they are unduly cleaning and tidying the mess of others.
At Direct Cleaning, with over 10 years of experience, we pride ourselves on efficiency, reliability and professionalism. We understand that cleaning communal spaces can become a logistical nightmare, so let us take on the responsibility!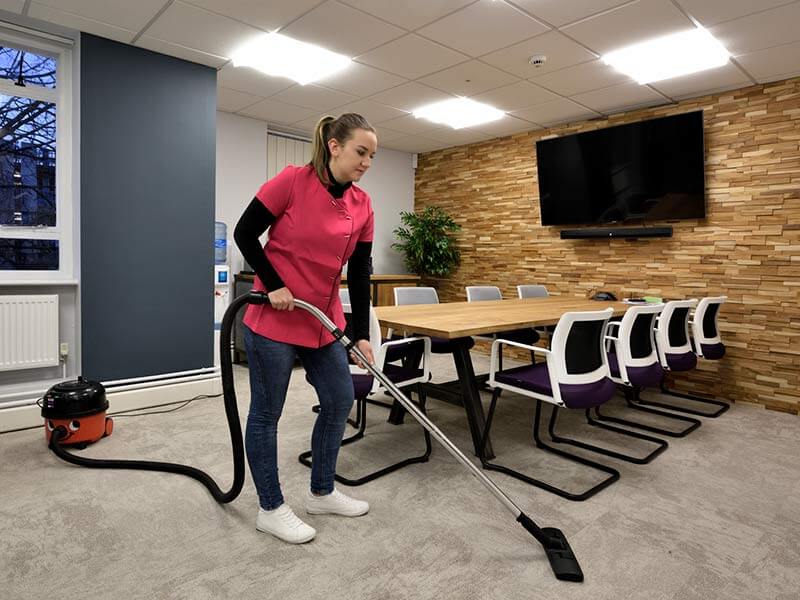 Communal Cleaning
Communal Cleaning is an increasingly popular option for businesses, schools, offices, university halls of residence, gyms, hospitals and other shared spaces. When it comes to cleaning shared hallways and foyers within apartment buildings or halls, this will usually be paid for with a 'service fee' included in each resident's yearly agreement. At Direct Cleaning Group, we ensure that we provide value for your money with every job to keep everyone happy with the cost and the high quality of work.
If you are a building management company or a landlord looking for a cleaning solution and think you could benefit from our services please get in contact with us today.
Office Cleaning
Office Cleaning is an integral part of the day to day running of any business and at Direct Cleaning Group we offer two different types of office and workspace cleans; cleaning of individual office spaces and cleaning of co-working/shared office spaces.
We offer cleaning to individual office spaces for businesses of all sizes whether you are working as a small start-up or are a multi-national company. Our team can work at a time of day to suit your working hours to ensure your space is kept clean and tidy on a daily basis.
For those with co-working and shared office spaces we also provide shared cleaning services. This is a great way to ensure a number of businesses can keep their costs down whilst keeping their workspaces in great shape. In spaces such as these, often the work hours can be erratic with many people coming and going it can be difficult for you to manage the cleaning alone. We understand every office and working environment is different and therefore we are happy to tailor a cleaning package to suit you and your exact requirements, ensuring the cleanliness of your space.
Each cleaning job is different and can be tailored to your requirements, however a standard clean of your space would include the following:
All floors hoovered/mopped
Reception area cleaned and hoovered
Hallways cleaned
Kitchen facilities thoroughly sanitised
Desk and Workstations dusted
Bins disposed of
Communal bathroom and toilet facilities
General tidying of the space
At Direct Cleaning Group, we are committed to providing each customer with high-quality cleaning services on every job. If you would like more information regarding our communal and office cleaning services, then don't hesitate to get in touch with one of our friendly team members to discuss your requirements and we will be able to assist you. For a free no-obligation quote today, please call 03300 02 02 88 or send an email to info@directcleaninggroup.co.uk.