How effective is traditional window cleaning?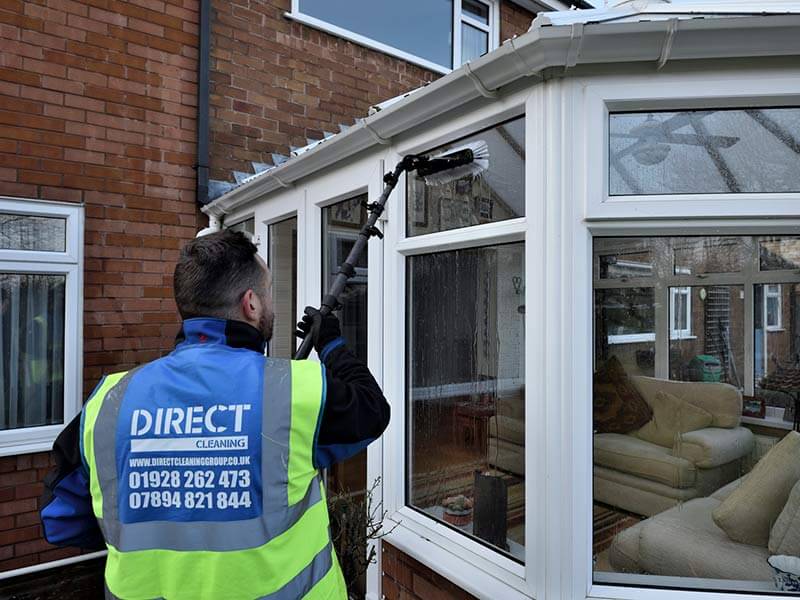 What is traditional window cleaning?
As long as windows have been around – as far back as ancient Egyptian times – they have required cleaning. The simplest way to get panes sparkling has been with water, a cloth and a lot of elbow grease but all that changed when, in the 1990s, professional window cleaners made the transition to the water-fed pole. That's not to say the classic method has been consigned to history. In fact there are some occasions where it is still used – not least when you are cleaning your windows yourself. The traditional way is to soap the window and wipe it clean with a squeegee on a t-shaped bar which is soaked in water mixed with a cleaning solution, a squeegee is then used to get rid of the soapy water and if necessary the widows are given a final buff with a dry microfibre cloth.
How effective is traditional window cleaning?
When in the right hands traditional window cleaning is as effective as other more modern methods. Done properly and your window cleaner will restore the brightness and sparkle to your panes. But if you've ever tried doing this yourself you will discover that not only is it a time-consuming process but very hard for the amateur to achieve brilliant results. Of course, there are some customers who actually prefer to have their windows cleaned in a more traditional way, as they see the service as a little more bespoke, however it has to be said that modern techniques are much more efficient. The job can be done in half the time and because it doesn't involve chemical solutions it can be more eco-friendly.
There can be occasions when traditional window cleaning might be more appropriate, such as for the fragile glass which is found in very old houses or for windows that are in a tight space where there is lack of access but modern state-of-the-art window cleaning is largely a better option. In addition to windows, telescopic water fed poles can clean UPVC, glass roofing, panelling and cladding – and everything will stay much cleaner for longer.
What are the alternatives to traditional window cleaning?
Pure water cleaning is a modern method that has gained traction over the years. Involving water that has been filtered through a purification process to remove all the natural minerals that might be absorbed by the glass, this "deionised" water is fed through a special kind of telescopic pole and applied to the windows. The benefits of this method suit the window cleaner, who no longer has to scale a ladder to reach the upper floors of a building and to the property owner who not only gets clean windows but ones that are cleaned using no nasty chemicals in an eco-friendly way.
How do Direct Cleaning Group clean windows?
At Direct Cleaning Group our team of professional window cleaners will clean your windows quickly and efficiently using advanced techniques and equipment to produce sparkling result
We specialise in 'reach and wash' window cleaning, an advanced technique that uses a state of the art reach and wash water-fed pole system.
Book your window cleaning today
Finally, if you want sparkling streak-free windows – and why wouldn't you?  Please don't hesitate to get in touch with us and schedule your window cleaning today.