How beneficial is pressure washing to patios and driveways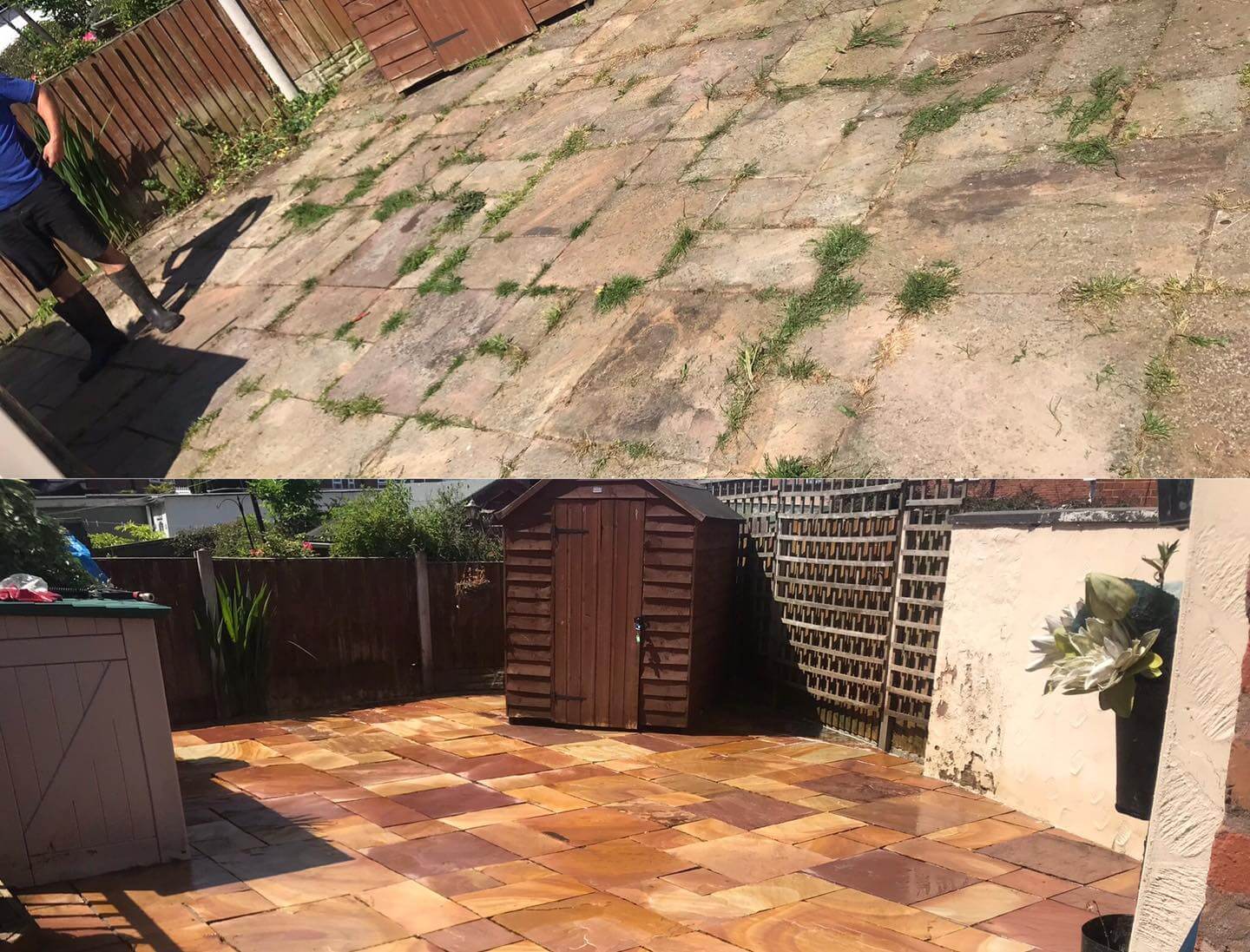 According to a survey carried out by The Royal Horticultural Society, the British front lawn is disappearing with a quarter of all homeowners over the past 10 years switching to gravel or paving. This is a shocking statistic, but it is not difficult to see why the number of patios and driveways has tripled. Patios and driveways look great, increase property values and best of all are low maintenance, but that doesn't mean you won't want to keep them looking as great as the day they were installed!
If you have a concrete driveway or patio as part of your property, it is guaranteed to get dirty over time. Whether it be from the elements, foot traffic or dirt from your vehicle's tyres, dirt and grime will start to downgrade the look of your property which is why pressure washing services are so beneficial. If you are considering a pressure washing service to improve the appearance of your patio or driveway, keep reading to find out the benefits and more.
How often do patios and driveways require pressure washing?
There is no hard and fast rule as to how often your patio and driveway requires pressure washing as every property is different. Most pressure washing service specialists will recommend once a year, but you may require a more frequent service if your property experiences high traffic with people coming and going on a regular basis. You may also benefit from a more frequent pressure washing service if you live in an area that experiences a lot of rainfall and is surrounded by dense foliage with lots of grass and mud.
What is the benefit?
Safety
It may not be something you often consider but if your patio or driveway is covered in grime and algae, it may become a safety hazard. If not dealt with, your property could cause family, friends, and visitors to slip and fall but pressure washing can help remove this problem.
Eco Friendly
In 2021, we are all more conscious of our individual impact on the environment and when it comes to keeping your patio and driveways clean, you should be as equally mindful. There are many harsh chemicals available on the market that may help to bring back the shine in your driveway but at a cost to the environment. Pressure washing is a much more eco friendly method of keeping your driveway and patio space clean without it quite literally, costing the earth.
Efficiency
When it comes to cleaning your patio and driveway you want a product that is efficient and effective, qualities possessed by pressure washing. Using a pressure washing service will help you to achieve the best results in the shortest time frame without damaging or discolouring your property. Pressure washing when compared to market alternatives is ultimately the most cost and time efficient method of keeping your driveway looking great.
Should I do it myself or hire a professional?
Whilst there are many different pressure washers available for purchase, the results from each will vary. In order to get the best results for your patio or driveway you would need to pay a substantial upfront cost for a medium to heavy duty pressure washer that can blast away dirt, debris and any stains.
Pressure washing is not as simple as pointing at the ground and spraying water for a few minutes. If your pressure is too low, you will spend hours trying to remove dirt and stains that may not even come out. Equally, if your pressure is too high, you run the risk of causing extreme damage to your driveway or patio. It only takes one spray at an area where you haven't noticed a crack or a paving slab that isn't structurally sound and your driveway could be completely ruined.
By hiring a professional pressure washing service you can have peace of mind knowing you won't need to worry about any of these issues. Pressure washing specialists will come equipped with their own heavy duty pressure washers and more importantly will have the knowledge and experience necessary to carry out the job quickly and efficiently. They will know the exact settings to use on your driveway without causing any damage to it, the surrounding flora, or your property.
Get in touch!
At Direct Cleaning Group, we are the leading experts in our field offering range of domestic and commercial cleaning services. For more information on our range of services, or to arrange pressure washing for your property, get in touch with Direct Cleaning Group today by calling 03300 02 02 88 or sending a message to info@directcleaninggroup.co.uk.