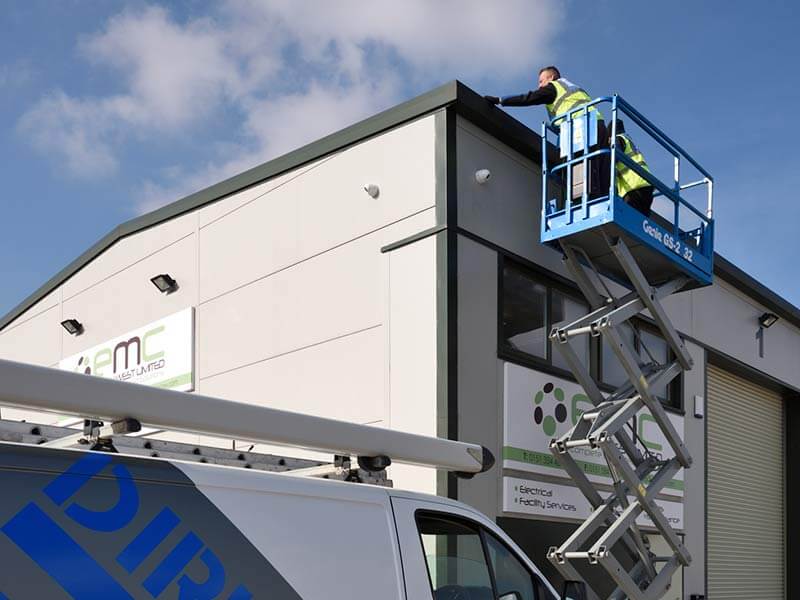 Direct Cleaning Group offers a specialised commercial and industrial gutter cleaning service for businesses and companies across a wide range of different industries.
Our expert, professional team has over 10 years' experience providing a high-quality commercial and industrial gutter cleaning service that will keep your gutters free from debris.
Gutters are an integral part of any commercial and industrial building, but keeping them clean and well maintained is a task that's often overlooked. Contact our friendly team today to find out how we can help you.
Why Do Commercial and Industrial Gutters Need Cleaning?
Commercial and industrial premises need regular gutter cleaning, otherwise debris, moss and mould can all build up.
Blocked gutters are a serious problem, as they can attract unwanted attention from wildlife, including rodents, birds and insects, which can then cause infestations or nuisances on your business property.
Blockages can also lead to serious structural problems, as they force rainwater to seep onto the roof or into the foundations of a building. This can cause damage over time and, ultimately, it's much more cost-effective to keep your gutters clean than it is to undertake a major repair project.
Cleaning your gutters also helps to keep your commercial and industrial property looking well maintained, an important task if you want to attract more clients or customers to the property. Clean gutters will only help to give you a more professional look.
We take great pride in our commercial and industrial gutter cleaning services. We offer expertise and experience in cleaning out gutters on everything from commercial offices to industrial warehouses. And we know how to deal with, repair and maintain all guttering issues.
A Professional and Reliable Service
Direct Cleaning Group is here to provide professional and reliable service when it's time for your commercial or industrial gutters to be cleaned.
With a decade of experience in the field, we know how to provide quality, consistent gutter cleaning in a friendly manner. Our expert staff are knowledgeable and ready to deliver a  quality service.
Our reliability has ensured that we've built up a loyal following in the North West, with our customers returning to us time and time again, safe in the knowledge that we'll deliver on our professional promises every time.
Gutter Cleaning Services
Direct Cleaning Group provides a wide range of gutter cleaning services throughout the North West region.
As well as commercial and industrial cleaning services, we also offer home gutter cleaning, warehouse gutter cleaning, school gutter cleaning, office gutter cleaning, apartment block gutter cleaning, and high-level gutter cleaning.
We pride ourselves on our ability to take on a huge diversity of gutter cleaning tasks, and are happy to tailor our services to your specific needs.
Contact Direct Cleaning Group Today
Direct Cleaning Group offers a friendly, professional gutter cleaning service on a commercial and industrial basis. Contact our expert team today, to find out how we can help you.
Call us on 03300 02 02 88 or email info@directcleaninggroup.co.uk for more information.