Our team here at Direct Cleaning Group have been cleaning the windows of offices throughout the North West for over 10 years.
We use modern window cleaning techniques and equipment and professionally trained staff to provide our customers with a window cleaning service that is efficient, reliable and provides outstanding results.
Over the years, we have provided our services to offices all over the North West, from Blackpool to Chester, always offering the same high quality service and level of professionalism, no matter what the size of the job.
For more information about our commercial window cleaning services, or to request a free quote on a job, give our team a call on 03300 02 02 88.
Benefits of professional window cleaning services for offices
Your office's windows are visible from both the inside and the outside of the property, so keeping them clean and well maintained is very important to your business' overall appearance.
Clean windows are important to more than your business' aesthetics though, here are just some of the benefits of clean office windows:
Maintain the condition of your office windows to improve their lifespan.
Improve your office's reputation locally.
Increase employee motivation and productivity.
Helps to create a clean and attractive work environment.
Let more natural light in.
A clean and hygienic workplace means healthier and happier employees.
Saves you time doing it yourself.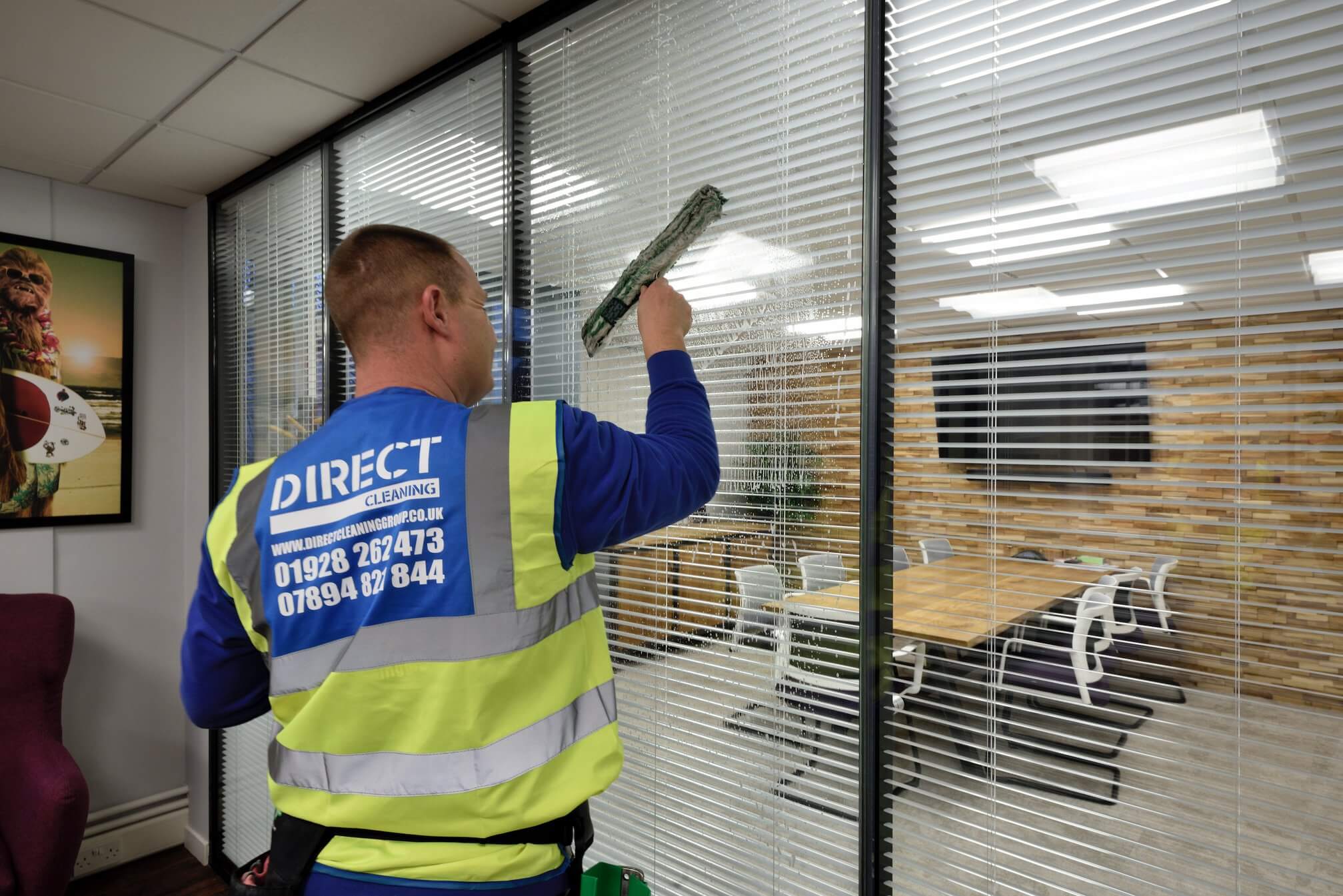 Bespoke window cleaning services to suit your requirements
There is no one size to fit all when it comes to window cleaning, every building is different and so requires a different approach to achieve the best results.
That's why we offer bespoke window cleaning services to our customers. We will consider several factors before deciding on the best equipment and techniques for the job, including:
The height of your building.
The scale of the job.
Any access issues.
Your individual requests or requirements.
We will then select the most appropriate methods and equipment for achieving the best results.
Just some of the techniques and equipment we use include:
Ladder-less, water-fed pole systems.
High-level window cleaning.
Cradles and mobile platforms.
Traditional window cleaning methods.
Rope access techniques.
Why choose Direct Cleaning Group?
Our commercial window cleaning services are trusted and recommended by numerous offices throughout the North West. Here are just some of the reasons why our customers keep on returning to us.
We are an established and trusted business with over 1000 regular customers.
We have over 10 years' experience in the industry.
Our staff are professionally trained and accredited in the relevant fields.
We pride ourselves in offering services that are efficient, reliable and professional.
We use innovative, modern techniques and equipment to achieve outstanding results.
No job is too big or too small.
Get in touch today
If you're looking for a professional window cleaning company to clean your office windows, call our team on 03300 02 02 88 to discuss your requirements in more detail or to request a free, no obligation quote on the job.
Contact Us For A Free Quote